April 13, 2022
King of Prussia District Debuts Free Pop-up Fitness Classes & Revives Popular Food Truck Series as KOP's Employees Come Back to Offices
Food, fun and fitness are coming to KOP's corporate parking lots this May, June and July for KOP Wellness Wednesdays and Food Truck Tuesdays.
As more and more companies in King of Prussia and surrounding communities begin to make their way back to the office, King of Prussia District is pleased to announce the return of a popular outdoor event series and the debut of another. After a 2-year hiatus, Food Truck Tuesdays returns with a series of six events this May, June and July, and Wellness Wednesdays debuts with a series of four events in May and June. The pop-up events are free and open to the public to attend.
"King of Prussia District enjoys bringing the community together through our pop-up outdoor events," said Eric Goldstein, President & CEO of King of Prussia District. "Events like these highlight opportunities for collaboration and community-building you can only achieve when you are in an office setting."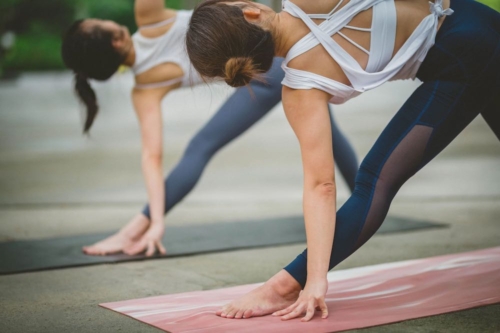 KOP Wellness Wednesdays, Presented by Children's Hospital of Philadelphia, will get KOP moving after work (4:30-6 PM) with 45-minute workouts taught by fitness instructors from KOP gyms and fitness centers. Attendees will receive swag bags of samples and special offers from KOP's health and wellness community, as well as have the chance to chat with event supporters of this and King of Prussia District's February event KOP Wellness Week: Presenting Sponsor Children's Hospital of Philadelphia's King of Prussia Campus; Platinum Sponsor Rothman Orthopaedics; and Silver Sponsors Brookdale Hospice, Einstein Healthcare Network King of Prussia, Lifestyle Changes by Dr. Darby and Main Line Health. The KOP Wellness Wednesdays roster includes:
May 4 at 2520 Renaissance Drive featuring yoga taught by a LA Fitness KOP instructor.
May 18 at 935 First Avenue featuring a fitness class taught by an Upper Merion Community Center instructor.
June 1 at 2520 Renaissance Drive featuring a Metabolic Conditioning class taught by a Dub Fitness and Wellness instructor.
June 15 at 935 First Avenue featuring Yoga Groove taught by an ELLE FIT Dance & Fitness instructor.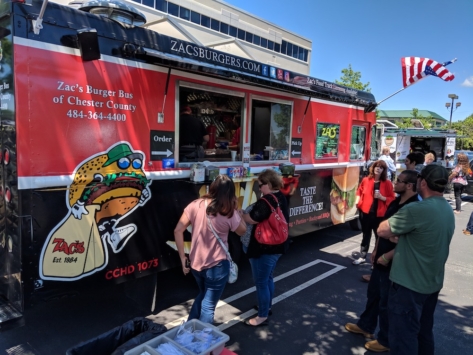 Food Truck Tuesdays, Presented by The George Apartments, brings live music, food trucks, seating, games and sponsors to different corporate parking lots in King of Prussia during lunch hours (11:30 AM – 1:30 PM) throughout May, June and July. The six events are spread throughout King of Prussia and each feature different food trucks and musicians. Food Truck Tuesdays is presented by The George Apartments, and sponsored by Season Sponsors Brandywine Realty Trust, Budget Maintenance and Level M Recruiting Group, and Half Season Sponsors the Alloy – a DoubleTree by Hilton, Passanante's Home Food Service and Xfinity, and Print Sponsor Conlin's Print. The Food Truck Tuesdays roster includes:
May 10 at 630 Freedom Business Center Drive featuring Korea Taqueria, Nick's Roast Beef and Kresha's Kreations. Live music by Sid & Ted's Excellent Musical Adventure.
May 24 at 150 S. Warner Road featuring Dump & Roll, Albies Burger Truck and All of a Sudden Desserts. Live music by Judah Kim.
June 7 at 2520 Renaissance Drive featuring The Happy Pita, Chickie's & Pete's and The Sugar Plum. Live music by Rubber Music.
June 21 at Valley Forge Casino Resort featuring Surf and Turf Truck, Pizza Wagon and Sweet Thang Nuts & Candy. Live music by Mike Greer & Co.
July 12 at 900 E. 8th Avenue featuring The Hedgehog Grill, Dos Gringos Mexican Kitchen
and Dia Doce. Live music by Kendal Conrad.
July 26 location TBD featuring Southbound BBQ Company, Papermill Food Truck and Dia Doce. Live music by Ryan Tennis.
About King of Prussia District
King of Prussia District is a 501(c)(3) not-for-profit, special services organization. King of Prussia District engages public and private partners to collaboratively improve the economic environment in King of Prussia by making it more vibrant, attractive and prosperous. More information is available at visitKOP.com
Facebook @KingofPrussiaDistrict | Twitter @KOPBID | Instagram @visitKOP