November 7, 2022
Wayfinding Upgrades in Renaissance Park
By Chris Basler, Director, Capital Projects & Planning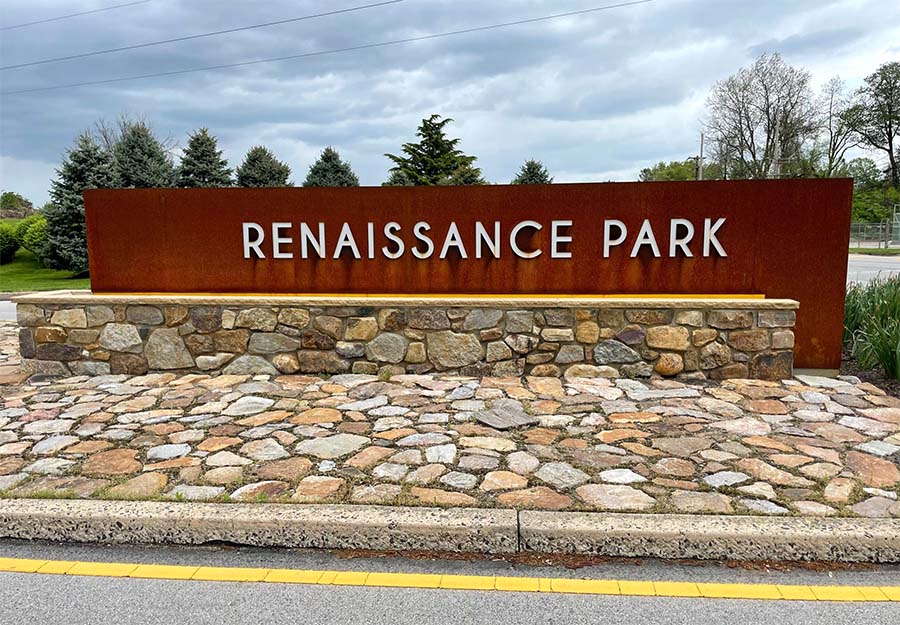 Every day, commuters and residents travel East Church Road, Swedeland Road and Crooked Lane without knowing the incredible roster of businesses found in Renaissance Park. For others visiting this mixed-use area, navigating the nondescript pedestrian or vehicular entrances can be a challenge when signage doesn't provide proper information in an understandable format.
Completed in 2021, King of Prussia District's Renaissance Park Stakeholder Engagement Study highlighted the need to improve wayfinding signage. As a result, King of Prussia District engaged D2 Branding to develop an exterior wayfinding and signage master plan. With the design guidelines completed in Spring 2022, the first set of signs are to be installed this fall.
After a competitive bid process at the end of the summer, King of Prussia District hired City Sign Service Inc. of Horsham, PA to construct and install three gateway signs. Two signs will replace the existing monuments at the East Church Road and Swedeland Road entrances. The third sign will be installed with the new pedestrian gateway and trail connecting Renaissance Boulevard to the future Crooked Lane crosswalk and Hughes Park Station.
Following the gateway monuments, the next wave of wayfinding signage in 2023 will help drivers, bicyclists and pedestrians navigate the mixed-use district by providing more noticeable and attractive signage throughout.