July 12, 2019
Thank You for Rocking With Us
By Rachel Ammon, Director, Marketing & Communications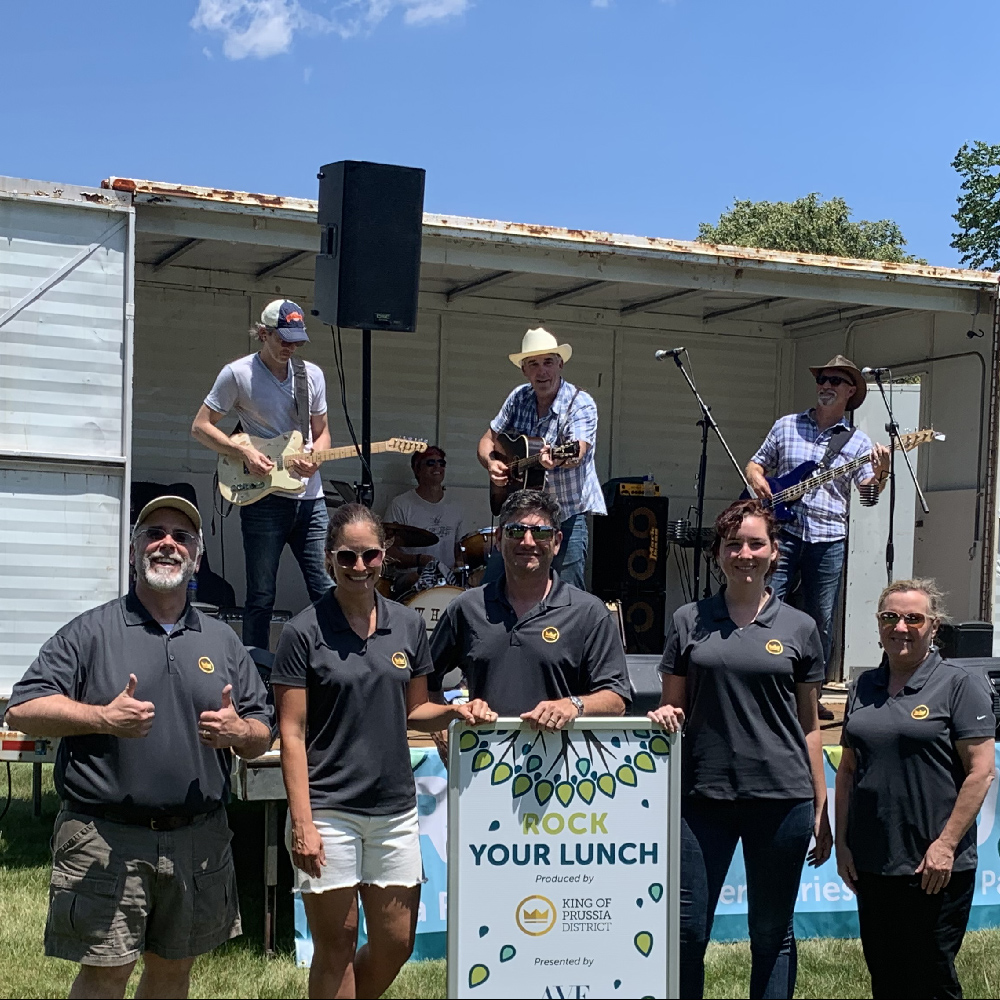 With the last strum of the guitar on Thursday, June 27, King of Prussia District wrapped up the 2019 Rock Your Lunch Summer Concerts, marking the end of this incredible series that has brought awesome music, tasty eats and fun to Moore Park KOP for the past eight years.
Rock Your Lunch first began in 2012 as a way to encourage KOP employees to get out from behind their desks during their lunch hour to enjoy live music from local and regional bands and delicious samples from KOP's best restaurants, while mingling with people from other companies. The front lawn at Arkema (900 First Avenue) served as the perfect venue for the concerts, which routinely attracted between 200-400 people each week. Rock Your Lunch debuted with concerts in June, July and September, but then settled into a groove of every Thursday in June. Each concert featured a different band and mix of restaurants, allowing for a new experience every week.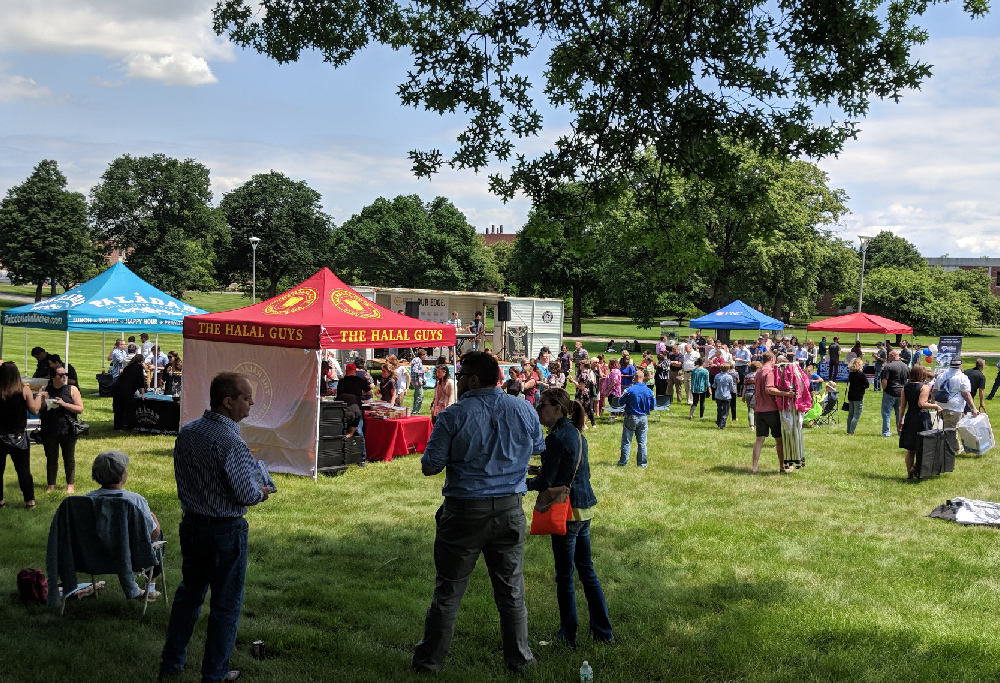 King of Prussia District is incredible grateful for the many partners that helped keep this concert series thriving for eight years. From our generous hosts at Arkema, to Upper Merion Township Parks & Recreation Department staff, who loaded and unloaded the stage each week, Rock Your Lunch was truly a community effort. Each restaurant added their own flavor to the event, serving up everything from wood-fired pizzas, to sizzling BBQ, to refreshing smoothie bowls. We also would like to give a standing ovation to all of the bands that provided the soundtrack for these fun summer events. From pure rock-and-rollers, to pop, to indie artists and everything in between, all of the talented musicians brought such great energy and memorable tunes to the stage.
Finally, we must thank our sponsors throughout the years. Without their support, these events wouldn't be as dynamic and impactful as they are. We truly appreciate the investment that these businesses make to support our community efforts, and we encourage you to support them in turn.
Our 2019 Rock Your Lunch sponsors include:
Presenting Sponsor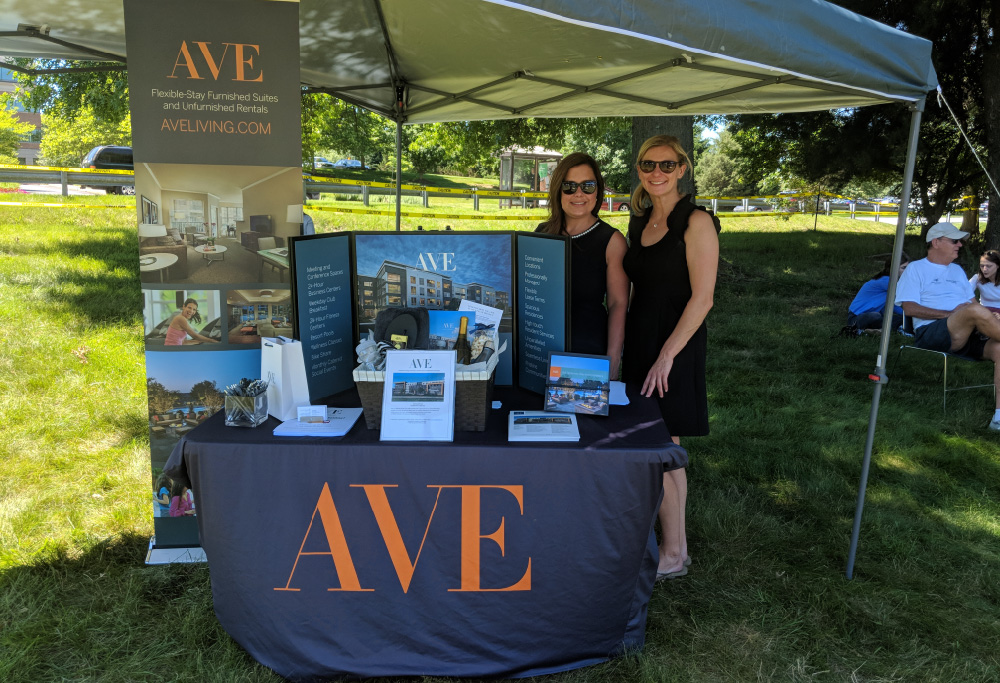 AVE King of Prussia
Live better at AVE King of Prussia! This brand new, state-of-the-art rental community, located in the Village of Valley Forge, specializes in furnished apartments with flexible leases for individuals who have temporary-stay needs, whether they are relocating for work, renovating their home, in between homes, or simply rethinking their current living situation. AVE King of Prussia also offers apartments with longer lease terms for renters who enjoy carefree living year-round. Experience a variety of floor plans, coupled with unprecedented amenity space, high-touch service, and a convenient location. Located at the corner of North Gulph Road and South Goddard Boulevard. Now Leasing! Call 484.831.0500 or visit their website…
Event Sponsors
AgileCat is an internationally recognized and awarded full-service creative agency based in Philadelphia. Their team of strategists, designers, animators, and artists thrive on producing authentic, creative experiences and solutions that deliver maximum impact, from injecting the bottom line to transforming corporate culture. Through Brandterior® Design, naming strategies, animated videos, web design, and modular brand experiences, AgileCat has driven over $5.2 billion in profitability for their clients since 2001. They create success through a relentless and courageous spirit that moves quicker, goes further, and disrupts traditional thinking. Learn more…
Since 1980, Conlin's has served the Philadelphia region with exceptional digital printing, signage, bindery, and direct mail fulfillment services. They may have started out as a small, family-owned copy shop, but today are recognized as one of the top 20 Quick Printers in the U.S. Businesses of all sizes trust Conlin's to deliver quality printing and fast turnarounds. When other printers can't meet your deadline, Conlin's can! Conlin's has two locations in King of Prussia and Malvern, with extended office hours at King of Prussia. As part of their exemplary customer service, all jobs are guaranteed. Business is powered by print – and nobody does print better than Conlin's. Call 610-337-4460 or visit their website…
Keystone Shops is Pennsylvania's premier medical marijuana dispensary serving all registered patients across PA. Each location provides a welcoming and informative experience for patients and seeks to be the dispensary of choice to aid in the healing process. The initial Keystone Shop location on Lancaster Avenue in Devon was proud to be the first to bring medical marijuana to southeastern PA in early 2018. Since then, Keystone Shops Devon has been serving patients from our communities and across the state. In May 2018, Keystone Shops King of Prussia joined the team with a location on South Henderson Road! When dry flower was added as an approved form to the program, Keystone Shops KOP rang in the occasion with a midnight flower sale celebration. This summer, you can look forward to the addition of their third store located on Packer Avenue in South Philadelphia. Have questions about medical marijuana? Call 215-876-0420, email info@keystoneshops.com, visit their website or message them on social media!
TD Bank, America's Most Convenient Bank, is one of the 10 largest banks in the U.S., providing more than 9 million customers with a full range of retail, small business and commercial banking products and services at more than 1,200 convenient locations throughout the Northeast, Mid-Atlantic, Metro D.C., the Carolinas and Florida. In addition, TD Bank and its subsidiaries offer customized private banking and wealth management services through TD Wealth®, and vehicle financing and dealer commercial services through TD Auto Finance. TD Bank is headquartered in Cherry Hill, N.J. To learn more, visit their website. Find TD Bank on Facebook and on Twitter and visit their King of Prussia branch located at 100 Dekalb Pike.
WSFS Bank is the largest and longest-standing community bank headquartered in the Greater Delaware Valley. WSFS opened its doors at King of Prussia Town Center in 2016 and provides comprehensive financial solutions for consumers and businesses. Now with over 90 retail locations and nearly 500 ATMs, WSFS offers daily money management solutions, longer-term saving and investing, online and mobile banking, debit and credit cards and an array of lending products. Their slogan, We Stand For Service®, is not just a slogan. It's a part of their name. It's woven into the fiber of everything they do. It's this unique approach to personal service that has set them apart for nearly 200 years. Stop in and meet with the team at the WSFS King of Prussia Town Center at 110 Town Square Place, or call 484-654-3050. Learn more…
20/20 Visual Media is a video production company made up of passionate storytellers. They have create meaningful, effective video messaging delivered across every digital platform. They've documented stories around the country and the world, all while staying true to their core belief: that everyone has a story to share. From the largest consumer brands to the smallest non-profits, the approach taken with each client is the same: Guaranteed personal attention from a team dedicated to telling a story that is entirely your own. Learn more…