July 2, 2021
Ten Years of Making KOP Accessible
By Chris Basler, Director, Capital Projects and Planning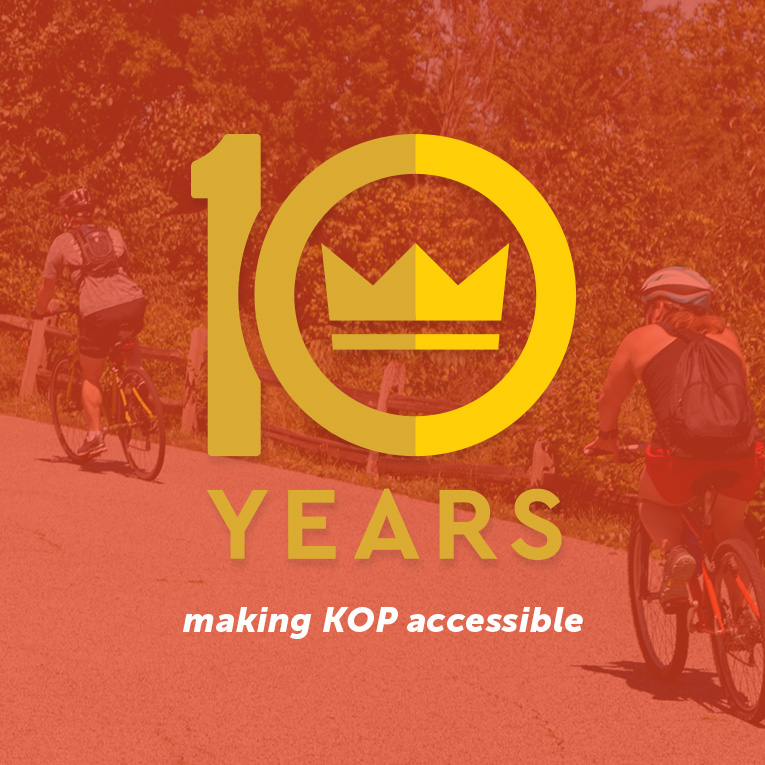 Building transportation infrastructure has been one of our key commitments to the King of Prussia community since our inception in 2010.  We are dedicated to making KOP more accessible for businesses, residents and visitors by implementing and rallying support for transportation improvements and a multimodal network that meets the needs of motorists, pedestrians and passengers.
COMPLETE STREETS IN MOORE PARK
King of Prussia District, in partnership with Upper Merion Township (UMT), Montgomery County, the Commonwealth of Pennsylvania and 10 commercial property owners, implemented a road diet and installed a multimodal trail, landscape and hardscape improvements and upgrades to public transportation facilities on a major corridor to create the First Avenue Road Diet and Linear Park.
The need for a road diet and multimodal trail connecting properties in Moore Park was evident from our inception. King of Prussia District and UMT reviewed land-use regulations for the outdated business park in 2012, which led to a conversion of the office-centric zoning to a mixed-use district in 2014. Early in the review, stakeholders realized that this neighborhood needed a network of pedestrian infrastructure and open spaces for workers and potential residents for the area to reach its development potential.
After conducting the First Avenue and Moore Road 'Road Diet' and Pedestrian/Bicycle Improvement Feasibility Study through the Delaware Valley Regional Planning Commission's (DVRPC) Transportation and Community Development Initiative (TCDI), engineers and landscape architects designed a revised roadway configuration and introduced a multimodal trail with active spaces and amenities along the First Avenue corridor.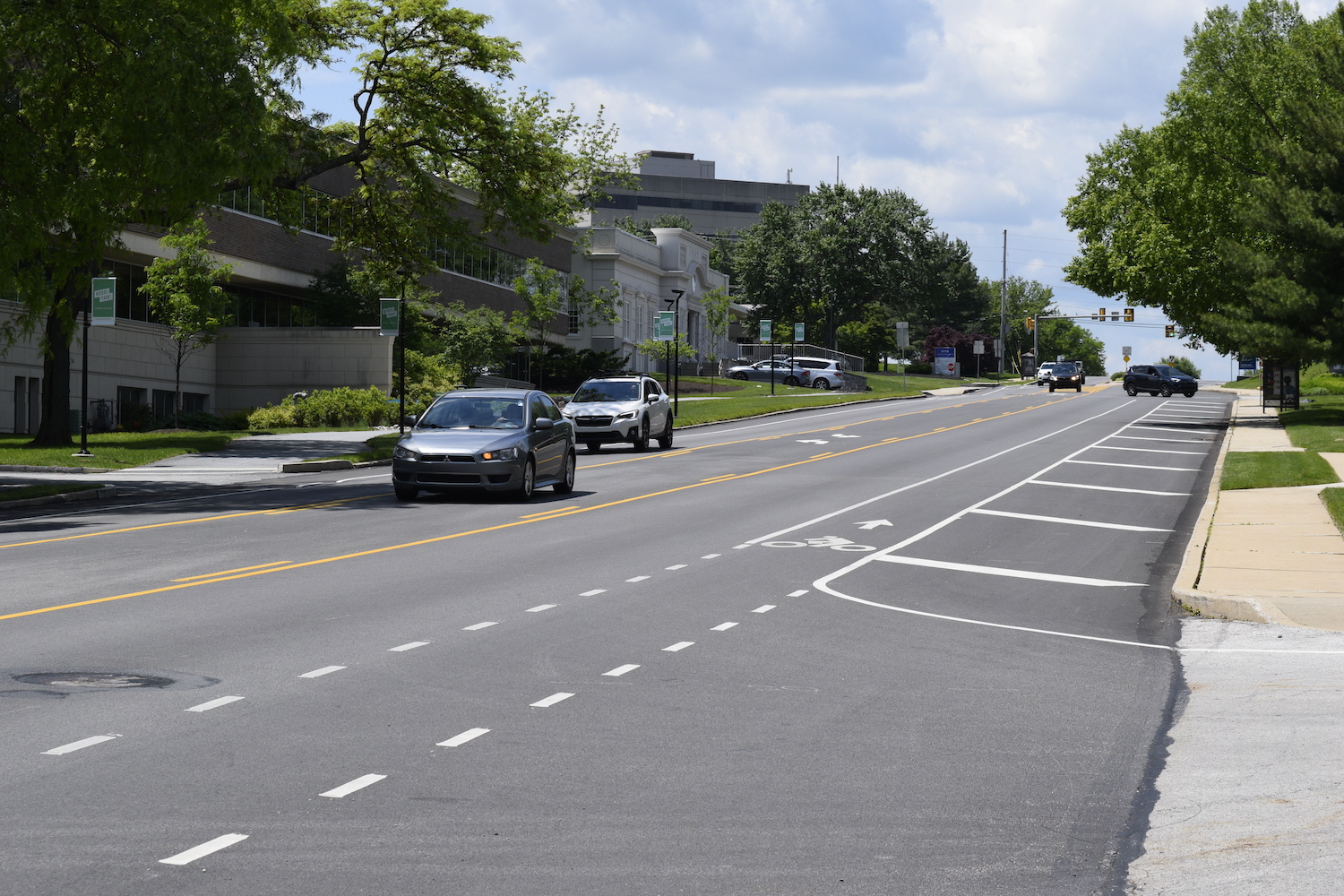 First Avenue Road Diet
Motorists, cyclist and pedestrians have a safer and more efficient travel experience along First Avenue thanks to the First Avenue Road Diet. After completing roadway designs, King of Prussia District, in partnership with Upper Merion Township, attained state grants to reconfigure the four-lane throughway to 3 lanes that includes a dedicated center turn lane, while adding bicycle lanes or a wider shoulder. The project also includes a mid-block signalized pedestrian crosswalk that opened in early 2019 to provide a safer street crossing.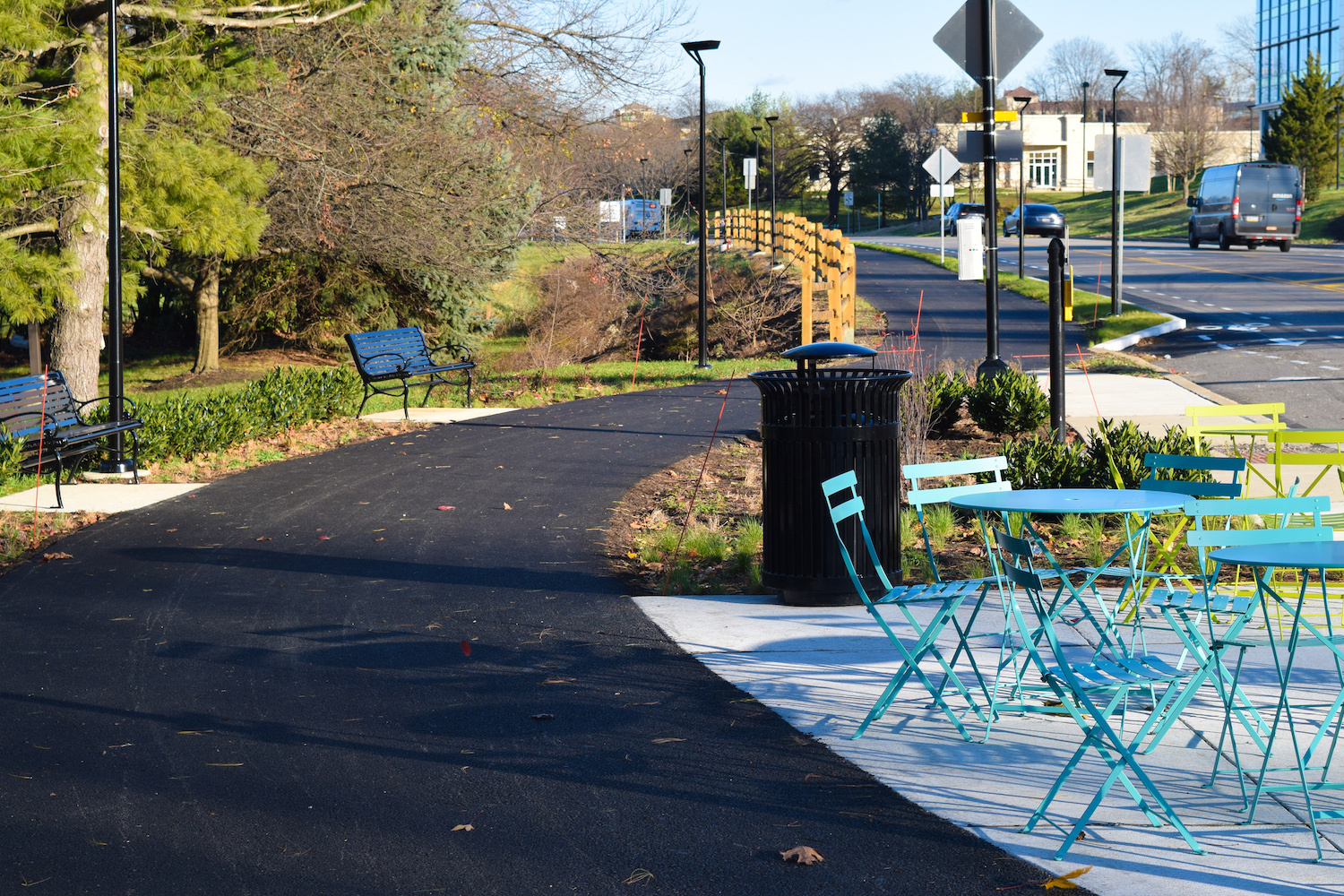 First Avenue Linear Park Phase One
King of Prussia District introduced a new outdoor space open to the public along First Avenue for employees and residents to enjoy in 2020. Partnering with PennDOT and 10 commercial property owners, King of Prussia District created the first of three multimodal trail projects along First Avenue. The Demonstration Project and Phase One have provided the foundation for future multi-use pathways that will span from North Gulph Road to Allendale Road through the heart of Moore Park.
Amenities of this public park include colorful seating plazas, flourishing planting beds and distinctive landscape features along the multimodal trail. Solar-powered pedestrian lights, trash cans and solar-powered bus shelters span the trail to create a clean and safe environment for pedestrians to access year round.
MAKING THE FIRST MILE/LAST MILE CONNECTION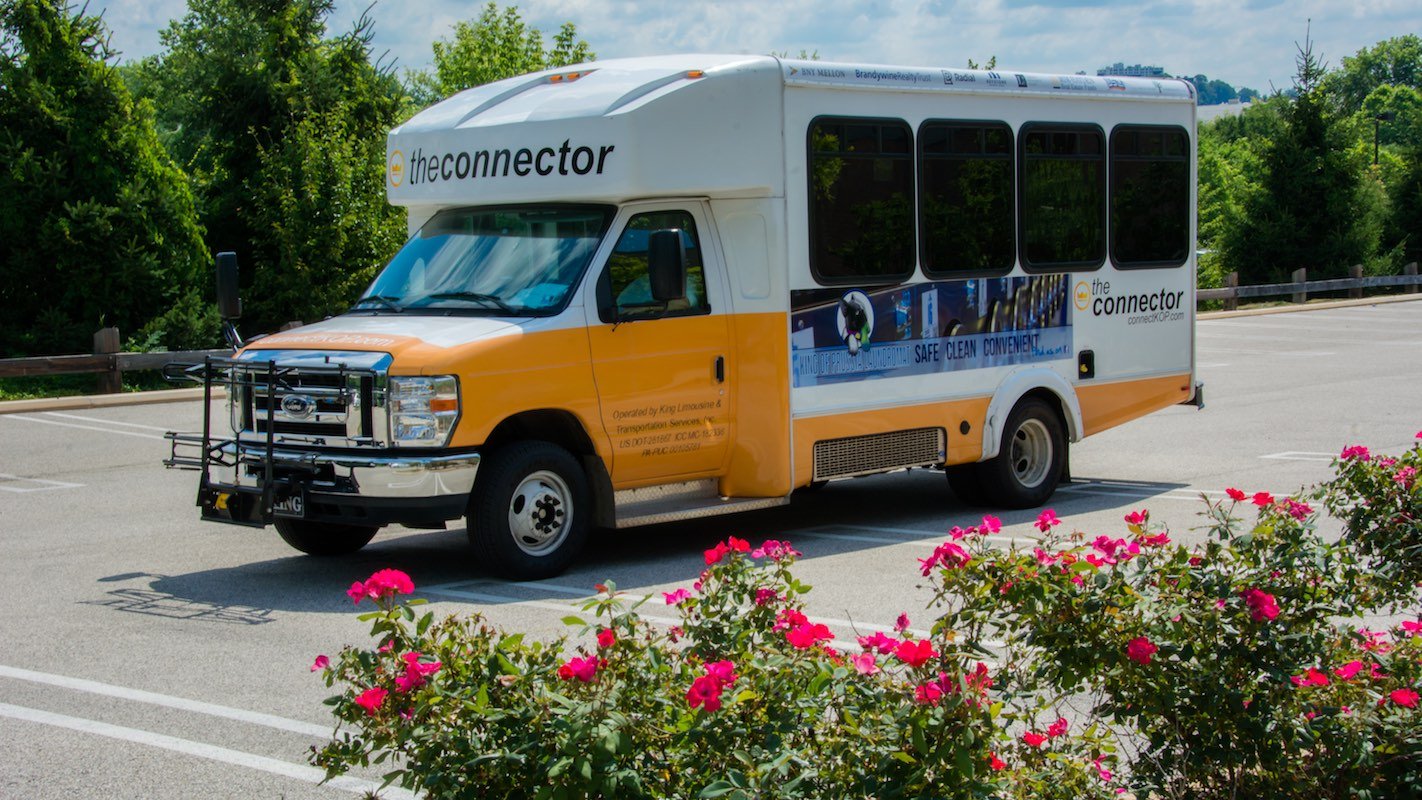 theconnector Shuttle
Since June 2013 theconnector shuttle has provided a reliable service for commuters going to work every weekday via the Norristown Transportation Center and Wayne stations. This companion service to SEPTA's Regional Rails and Norristown High Speed Line picks up commuters from KOP commercial office and R&D properties along 14 stops on each route. This first mile/last mile commuter shuttle service was started using a federal CMAQ grant with additional funding from Montgomery County, Upper Merion Township, commercial property owners and King of Prussia District. To date, it has provided 77,384 rides which has eliminated 1.7M pounds of carbon dioxide that would have been caused by single-occupancy vehicles. We look forward to resuming service later in 2021.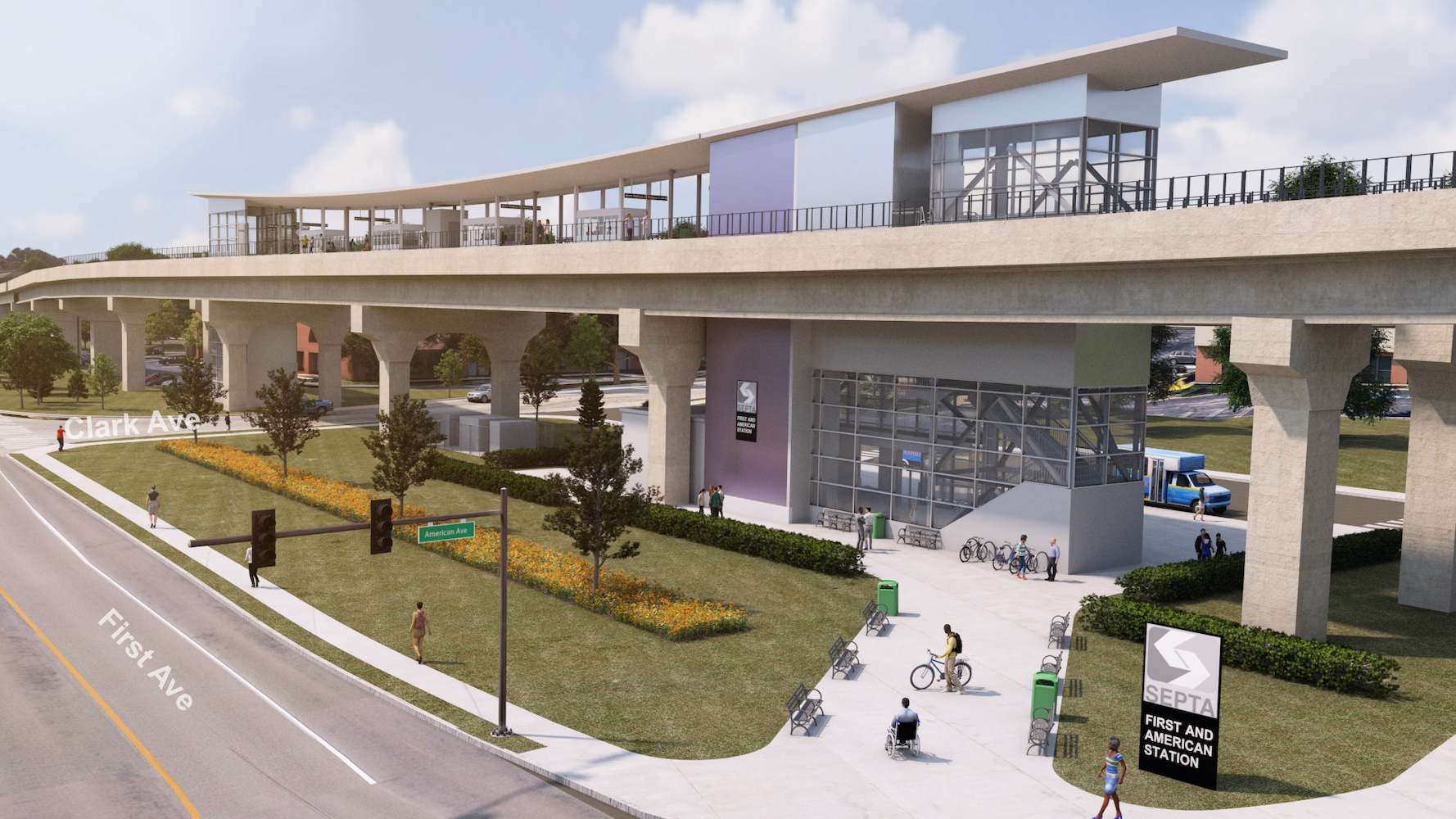 KING OF PRUSSIA RAIL
King of Prussia is on the edge of an evolutionary change with an important regional transportation linkage. The proposed 4-mile extension of SEPTA's Norristown High Speed Line through the heart of KOP's employment and retail districts will connect the three largest commercial centers in the Philadelphia region. A new elevated guideway and five accessible stations creates opportunity for transit-oriented development in locations suitable for higher density without the distorted influx of cars adding to already congested highways.
Recognizing the need for this transformative project and seeking to garner support from the public, King of Prussia District along with Greater Valley Forge Transportation Management Association (GVF) created the advocacy group, King of Prussia Rail Coalition in 2016. The coalition is comprised of commercial property owners, nonprofit agencies, chambers of commerce, academic institutions, businesses, residents and employees. Complete with a website touting the benefits of the project, social media accounts and a robust advertising campaign, over 700 individuals have declared their support for King of Prussia Rail. King of Prussia District proudly manages the marketing and communications campaign for the KOP Rail Coalition.
SEPTA's King of Prussia Rail project achieved several significant milestones this year. On January 8, 2021, the US Department of Transportation's Federal Transit Administration (FTA) issued a combined Final Environmental Impact Statement/Record of Decision that identifies community and environmental impacts. In February, SEPTA's board approved a plan to fund Phase 2 of Preliminary Design (30%), which include a project management plan, cost estimate, and delivery schedule.  This next phase is key for SEPTA to seek funding for KOP Rail from New Starts, FTA's Capital Investment Grant program.