August 7, 2019
Support Grows for First Ave. Linear Park: $4M in State & Federal Funding
By Shauna Sanchez, Digital Marketing Associate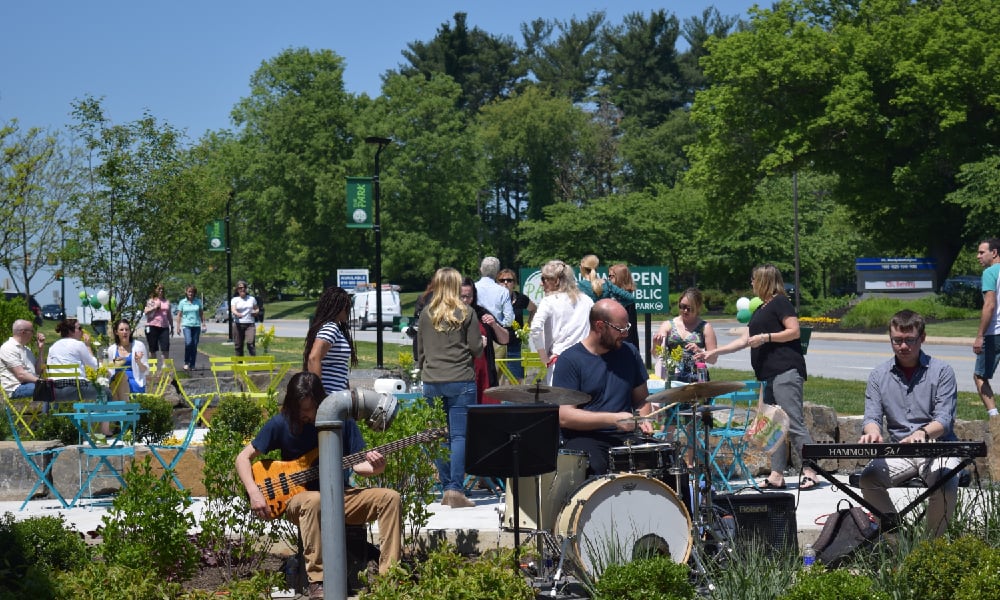 The First Avenue Linear Park is an initiative of King of Prussia District and part of a 'complete streets' makeover of First Avenue in Moore Park KOP. Once finished, the 2.6 mile-long, ADA accessible, multi-modal recreational path will connect 24 privately owned parcels between North Gulph Road and Allendale Road. The park will also feature vibrant rain gardens and planting beds, new solar bus shelters, solar pedestrian lighting, seating areas and programmable space. This beautiful amenity space will add walkability and help create a sense of community for the 20,000 employees and the future residents of Moore Park–but how are we paying for it?
King of Prussia District is pleased to announce that we were recently awarded a Redevelopment Assistance Capital Program (RACP) grant by Governor Tom Wolf and the PA Office of the Budget for $1M to support Phase 2 of the First Avenue Linear Park. The latest investment brings the total of state and federal funding for the Linear Park to more than $4M! The RACP funds will be used in conjunction with the $421,699 Multimodal Transportation Fund (MFT) grant through the PA Department of Community and Economic Development, awarded in April 2019 in partnership with Upper Merion Township for Phase 2. Over $450,000 in private contributions from property owners along First Avenue will be used as a match against the new grant funds. King of Prussia District will also provide matching funds for design, engineering and construction management.
This newest grant had strong support from State Representative Tim Briggs.
"The Linear Park will create a public space along First Avenue that, when completed, will be used by workers and residents alike," said State Rep. Tim Briggs. "I am pleased that Governor Wolf and the Commonwealth have made this investment into Moore Park as it continues to grow into an economic engine not just for our community but for all of Pennsylvania."
Phase 1, which will begin construction in the fall of 2019, will extend the existing Demonstration Park, located at 650 Park Avenue, down to 900 First Avenue (Arkema) and 933 First Avenue (GeoBlue) along both sides of First Avenue. Additionally, new sidewalks will be installed along the frontage of Valley Forge Casino Resort and Parkview Tower.
The First Avenue Linear Park is just one way that we are building a more vibrant, attractive and prosperous King of Prussia.  We can't wait for the day when we get to cut the ribbon and welcome the public to stroll, bike or walk safely in Moore Park KOP!