January 5, 2023
New Year, New Physical Improvements for KOP
By Chris Basler, Director, Capital Projects & Planning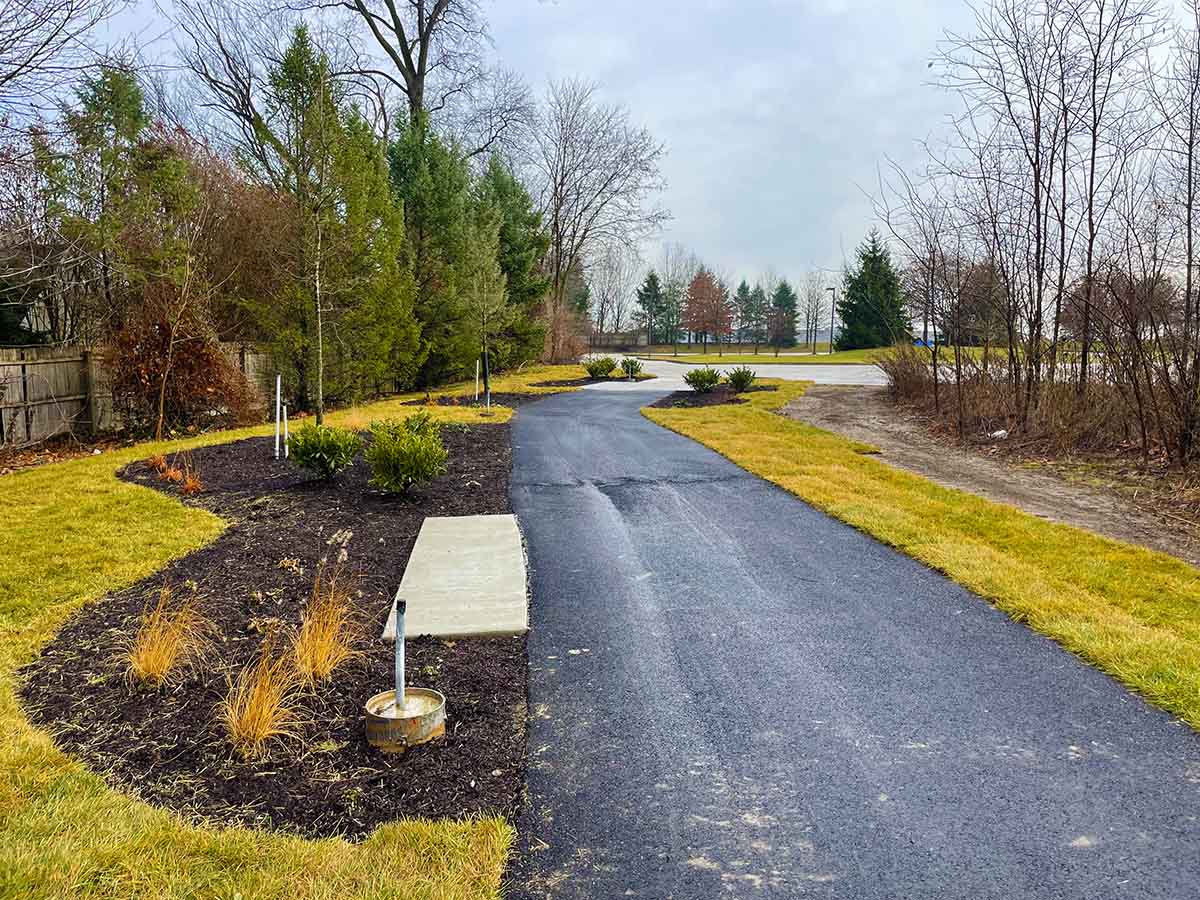 This year, some big projects are coming to fruition and we have more exciting plans on the horizon!  King of Prussia District is once again partnering with property owners, businesses, Upper Merion Township, Montgomery County and the Commonwealth of Pennsylvania to improve accessibility and placemaking throughout the community.
First up, Linear Park Phase Two construction reaches completion this spring with the addition of five parcels along First Avenue to create a continuous multimodal pathway between Allendale Road and North Gulph Road. In addition to an 8-10 ft-wide pathway, the project includes installation of pedestrian lighting, improved bus stop facilities, a concrete boardwalk along Trout Creek and accessible curb ramps. Funding for Phase Two construction is supplemented by grants from Montgomery County and the Commonwealth of Pennsylvania. First Avenue Linear Park will be complete after Phase Three, which is currently in design and will fill in the gaps to create a continuous trail on both sides of First Avenue.
The Renaissance Park Pedestrian Gateway to SEPTA's Hughes Park Station is nearing completion, with hardscape and plantings installed in December. Additional seating and pedestrian lighting will be added in March to create an appealing entrance for commuters and residents visiting the commercial district. This project stems from a 2020 Renaissance Park Stakeholder Engagement Study by King of Prussia District and a 2018 Safe Routes to Transit report by the Delaware Valley Regional Planning Commission recommending access improvements, including trail enhancements between Renaissance Boulevard and Crooked Lane. The project is made possible in partnership with 2901 Renaissance LLC and the Renaissance Park business condo association.
The next phase of pedestrian improvements in Renaissance Park will be outlined in a new connectivity study in 2023. The study will engage property owners, businesses and stakeholders to recommend pedestrian and bicycle infrastructure improvements that connect properties within the commercial district.
Along with pedestrian improvements, King of Prussia District will soon install new wayfinding signage in Renaissance Park. With input from stakeholders, in 2022 we directed the design and construction of new, modern gateway and wayfinding signage that better represents the innovative and progressive companies that call Renaissance Park home. The first set of signs are scheduled for installation at gateway entrances this month, while the next set of directional signs will be installed by year's end.
The new year also brings new planning efforts for projects in 2023 and beyond. King of Prussia District engaged a consultant to conduct the Moore Road Multimodal Trail Study to connect First Avenue Linear Park to the Schuylkill River Trail West. After conferring with property owners and stakeholders last year, the study results will be released later this month for public comment. The final report will inform King of Prussia District, Upper Merion Township and property owners on the types of pedestrian improvements needed along Moore Road.
Beyond Moore and Renaissance Parks, King of Prussia District will explore opportunities to advance other important transportation improvements, including the proposed PA Turnpike slip ramps at Freedom Business Center and Henderson Road and the North Gulph Road Multimodal Trail connecting Valley Forge National Historical Park to the Village at Valley Forge, South Warner Road, Devon Park Drive and the Chester Valley Trail. This transportation action plan outlines and prioritizes projects by identifying need, impact, funding sources and partners to create benefits extending well beyond the next decade.