April 30, 2021
KOP Businesses Come Together to Support Community
By AVE King of Prussia, Sponsored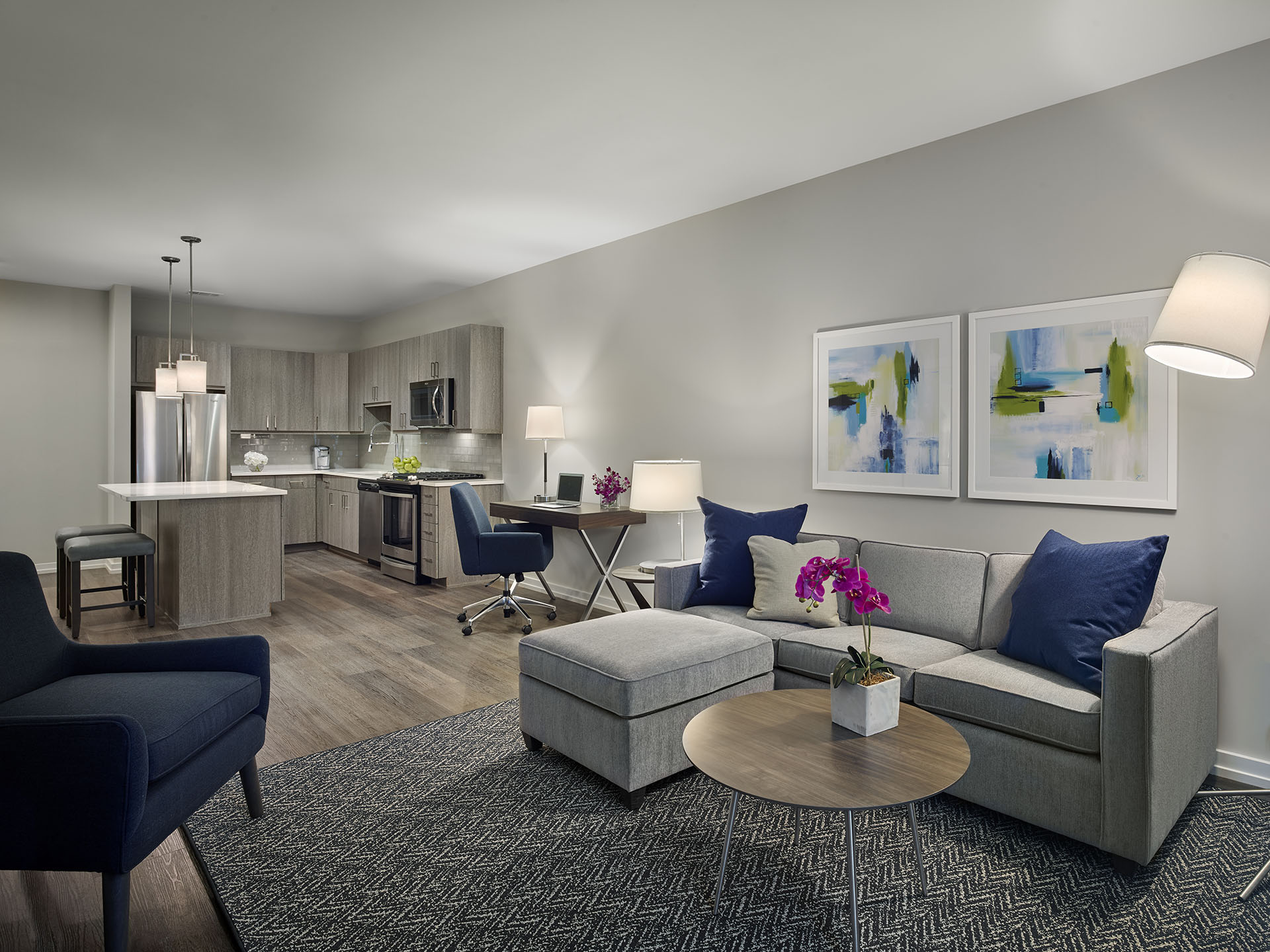 AVE has been redefining how people live, work, and play in King of Prussia since the luxury apartment community opened its doors in 2018. Now the dynamic real estate brand partnered with King of Prussia District to provide an innovative way for people to eat during King of Prussia Restaurant Week – in fully furnished, heated igloos.
AVE King of Prussia furnished the dining igloos so that Restaurant Week patrons could safely and comfortably enjoy take-out from participating restaurants. AVE King of Prussia specializes in flexible-stay, fully furnished apartments and luxury unfurnished apartments for individuals who desire flexible, carefree living.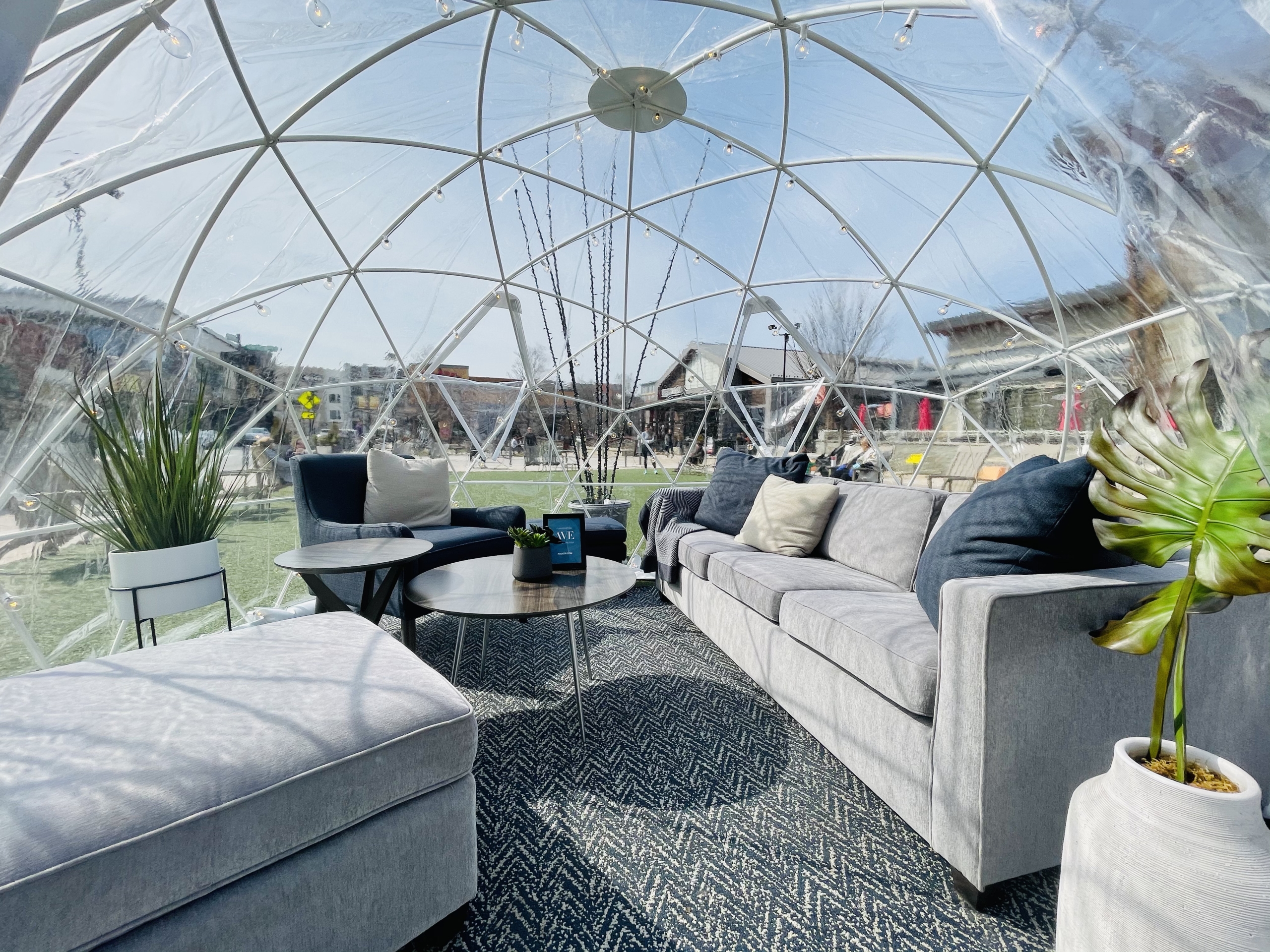 To kick off King of Prussia Restaurant Week, Leanna DiPrato, Regional Sales Manager at AVE, sat down with seasoned real estate agent Ron Minges of the Gary Mercer Team at Keller Williams Realty in one of the furnished igloos to talk about this great community event and dish on the unprecedented local housing market. "I'm coming up on 30 years in the business. I thought I had seen it all," Minges says. "The market just blew up! There's demand from people moving out of the city, but also people who have been stuck in their house for a year and need more space for a home office or recreation for the kids."
AVE partners with Realtors like Minges every day to provide a housing solution for their clients. "It's so rewarding when we can be that bridge for Realtors, so they can assure their clients they'll have a place to hang their hat in between homes," says DiPrato.
Minges shares he has around 10 sellers right now in that very situation. "They want to sell because they see the market – demand is high because inventory and interest rates are low, but they're worried where they'll go after the sale."
His partnership with AVE King of Prussia provides his clients total flexibility in a living solution – they can choose to lease furnished month-to-month or unfurnished for six to 12 months – until they decide what's next.
All igloo reservations during King of Prussia Restaurant Week and KOP Shops for CHOP benefitted Children's Hospital of Philadelphia (CHOP), of which Minges is personally grateful as he shared with DiPrato that CHOP provided first-class care to his son when he was young and diagnosed with a Coarctation of the Aorta. Minges' son, now 21, is a happy, healthy college athlete.
King of Prussia District, like most organizations in this climate, took an innovative direction to its signature event, King of Prussia Restaurant Week and KOP Shops for CHOP, this year so they could safely continue to support local restaurants and CHOP.
"We are more grateful than ever to have had the opportunity to host KOP Restaurant Week this year, given the impact of the pandemic on the hospitality and retail industries," said Eric Goldstein, Executive Director of King of Prussia District. "As we've seen time and time again since March 2021, KOP businesses are banding together and pivoting to meet the needs of their customers, while remaining as enthusiastic as ever about supporting CHOP. We are grateful for the support of AVE King of Prussia and all of the sponsors who helped make this year a great success."