November 29, 2022
King of Prussia District Releases Comparative Tax Analysis
By Eric Goldstein, President & CEO, King of Prussia District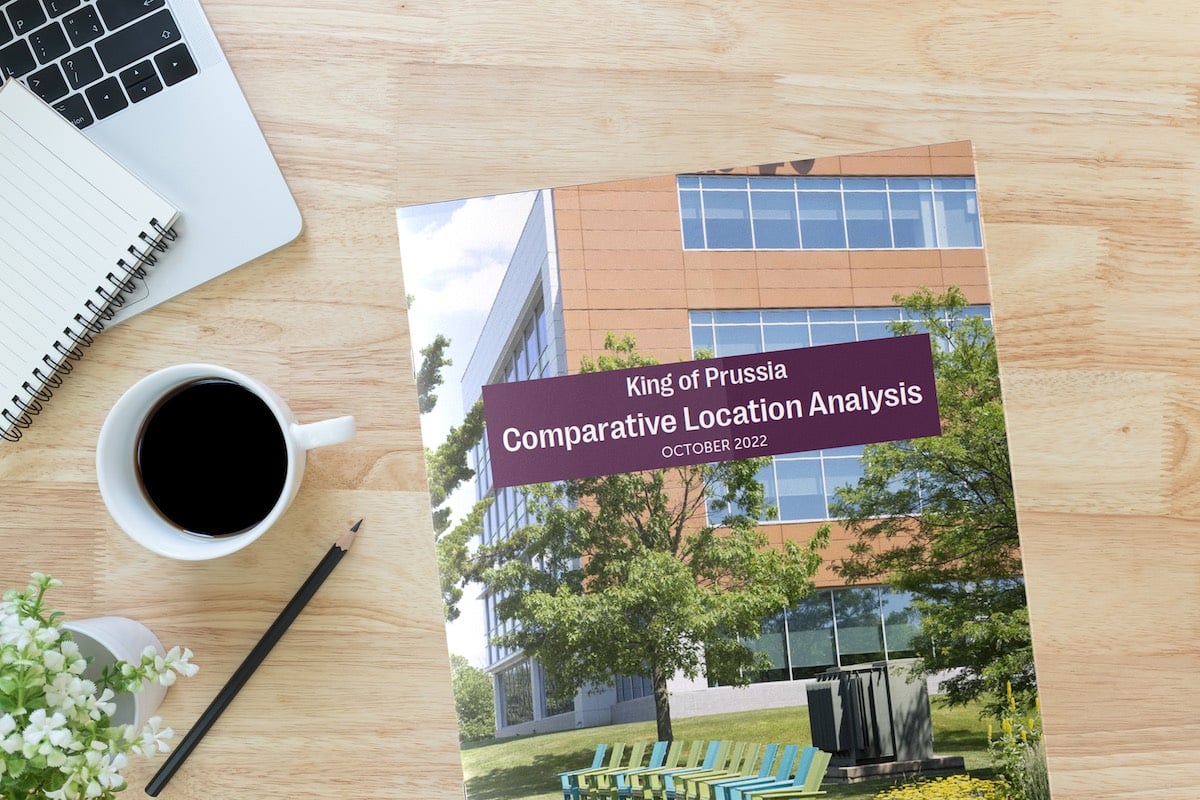 To ensure that King of Prussia has a regionally competitive tax structure that promotes and grows business, King of Prussia District regularly examines existing tax codes of Upper Merion Township (UMT), as well as nine of the region's largest employment centers that compete for companies and employees. King of Prussia District and its consultants use the data and research gathered to develop meaningful recommendations for the Township to consider for potential tax reforms.
We are pleased to release the 2022 Comparative Location Analysis and announce key findings from the report:
Upper Merion Township (UMT) maintained its previous position with the 3rd lowest total tax burden on business (1 = lowest burden, 10 = highest burden). UMT, as a business taxing location, remains "comfortably less burdensome than the high-tax jurisdictions in the region, and trailing only low-tax jurisdictions that offer far fewer amenities."
Due to the Township's sizable commercial sector, 64% of Upper Merion Township's real estate tax revenue comes from non-residential land use. This keeps the tax burden on residents one of the lowest in the region.
Upper Merion Township's relative tax burden advantage holds across numerous industry sectors of regional importance, including pharmaceutical and medical manufacturing, financial services, insurance, law, life sciences and warehouse/logistics.
With the 3rd highest concentration of employees in the region, a plethora of desired amenities and a significant number of new housing options, Upper Merion Township is well positioned as a location of choice for employers and employees.
Download the Executive Summary or the full 2022 Comparative Location Analysis here.
In November, King of Prussia District released its Quarterly Commercial Properties report for Q3 2022, further illustrating Upper Merion Township's strong post-pandemic performance. Highlights of the report, which utilizes information obtained from CoStar Group and Placer.ai, include:
At 10.8%, Class A office inventory (4.5M SF) is nearing the lowest amount of available vacant space (489K SF) in a decade, almost  8 points below the high  in 2019, and just 4 points above the low in 2018.
Retail vacancy remains steady at 3.2%, even after the Township added 700,000 SF during the past decade (6.5M SF total).
Buoyed by a decade of growth in industries that require on-site employment such as retail, dining, hospitality, warehousing/manufacturing/logistics, medicine and life sciences/pharma, commuting trips to Upper Merion Township are 84% of pre-pandemic levels.
Download the Commercial Quarterly Report here.