December 8, 2022
2022: Year in Review
By Eric Goldstein, President & CEO, King of Prussia District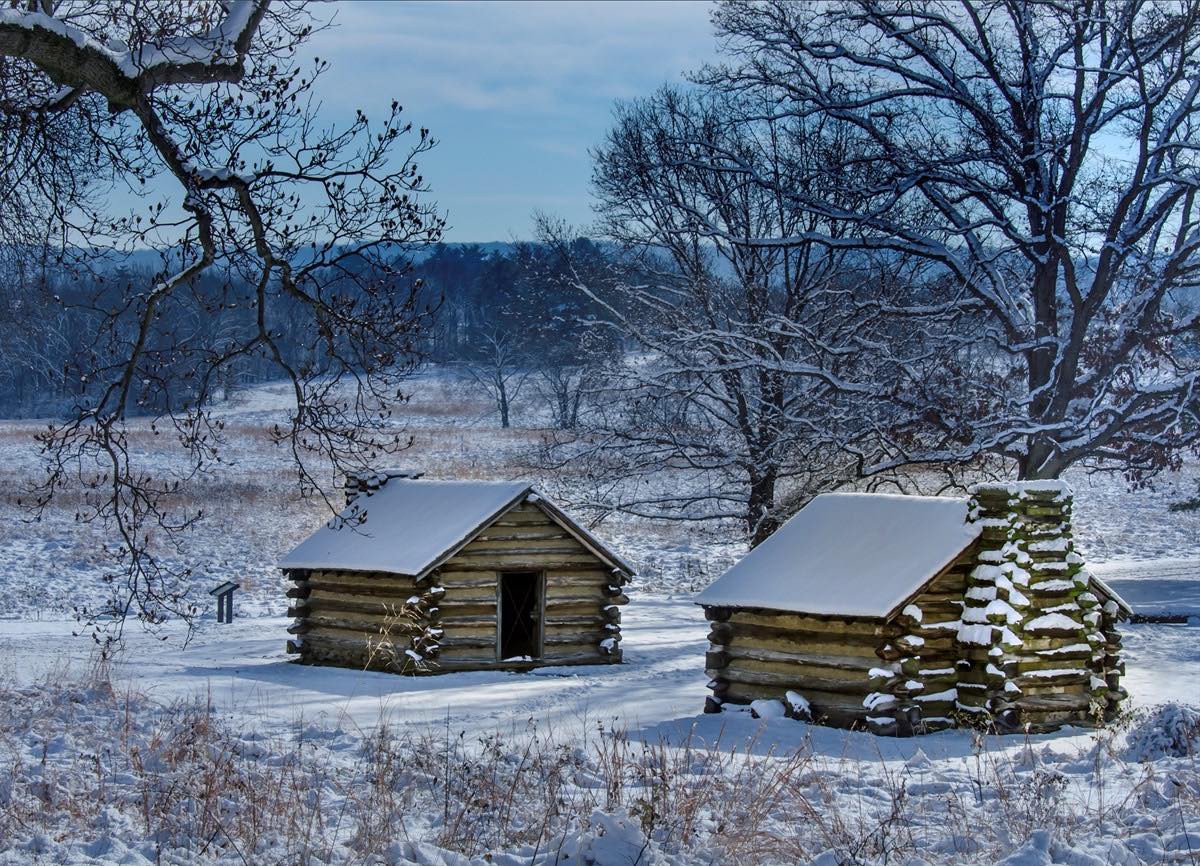 While the effects of the global pandemic are still present in everyday life, King of Prussia District had a very successful and, dare-we-say, normal year.
In addition to pushing many ongoing projects forward, we spearheaded new events, campaigns and amenities that contribute to KOP's thriving economy. We also gave back to the community in some very big ways this year.
Here are some of the accomplishments that we are most proud of: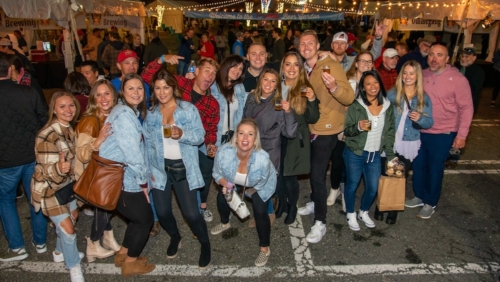 Marketing & Events
We started the year off with a bang, launching a redesigned VisitKOP.com with new features, like an interactive development map and a small business directory.
We debuted HQ KOP, an advertising campaign that positions KOP as the ultimate destination for meeting, working, recruiting and living. The campaign will continue in 2023.
With health and wellness on the forefront post-pandemic, we launched King of Prussia Wellness Week, featuring events, special promotions and workouts from 45 KOP health and wellness businesses. In the spring, we debuted KOP Wellness Wednesdays, a series of four workouts in Moore Park and Renaissance Park. Both Wellness Week and Wellness Wednesdays now have a place on our annual calendar of events.
Thanks to our incredibly generous community, 66 participating restaurants, retailers and businesses raised a record-breaking $69,140 for Children's Hospital of Philadelphia's King of Prussia campus through King of Prussia Restaurant Week and KOP Shops for CHOP. This brings our grand total to $290,124 over 8 years!
Almost 3,000 beer lovers joined us for the 11th annual King of Prussia Beerfest Royale to sample 100+ beers, enjoy food from 19 restaurants and food trucks and dance the night away to our 2 incredible bands.
Thanks to incredible support from our sponsors, First Responders Appreciation Week, produced in conjunction with Upper Merion Township, served first responders 2 meals a day and allowed us to include extras like gourmet coffee and chair massages. Additionally, we presented the Department of Public Safety with a check for $3,000.
We brought the action to the First Avenue Linear Park, hosting 2 beekeeper workshops, a ping-pong tournament to show off our newest amenity and 2 pop-up cafes, in addition to Food Truck Tuesday and Wellness Wednesday activations. Look for even more excitement on the Linear Park in 2023!
We rounded the year out with our most successful Annual Food Drive Co-produced with Conlin's Print, the food drive, benefitting Upper Merion Community Cupboard (UMACC), featured 30 collection sites that amassed over 3,200 lbs of food! New this year, we hosted Igloo Garden on the Green featuring five beautifully furnished igloos in King of Prussia Town Center to raise money for UMACC. Over one week, 779 guests enjoyed takeout in their cozy igloo, with the $15 per person reservation fee benefitting UMACC. Thanks to this new experiential activation and our sponsors, we raised $15,000 for UMACC
Community Support
In addition to the $87,140 raised for community organizations through our marketing efforts, we contributed $5,000 to Upper Merion Area School District student scholarships and teacher grants.
Using our reserves generated from private shuttle service management, we were pleased to present a $75,000 donation to the Valley Forge Park Alliance for their adaptive reuse of the Maurice Stephens House at Valley Forge National Historical Park.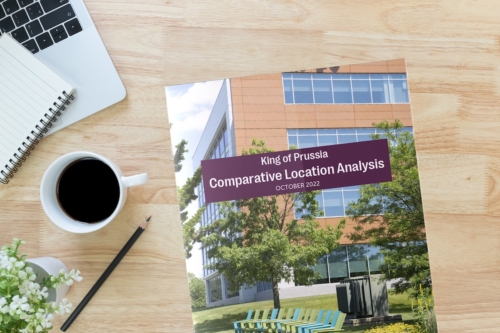 Tax Policy
To ensure that KOP has a regionally competitive tax structure that promotes and grows business, we released our 2022 Comparative Location Analysis. Through this research, we found that Upper Merion Township maintained its previous position as the employment center with the 3rd lowest total tax burden on business in the region.
Organizational Achievements
King of Prussia District staff participated in a three-month exploration of our individual and organizational values. Our three organizational values – Progressive, Determined and Fun – drive the way we approach our work and will be folded into our communications and operations in 2023.
President & CEO Eric Goldstein was recognized as one of Philadelphia Business Journal's Most Admired CEOs of 2022.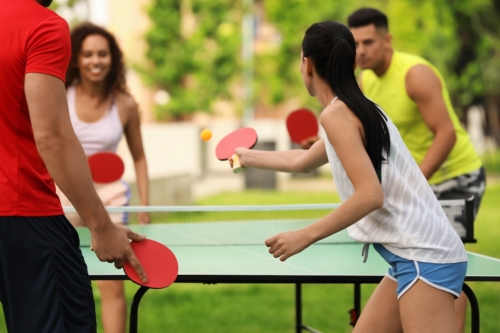 Physical Improvement & Transportation
In partnership with First Avenue Linear Park property owners, King of Prussia District introduced new public amenities, including an outdoor ping pong table and the King of Prussia District Beehive in Moore Park.
Phase Two of the First Avenue Linear Park is under construction with completion in early 2023. The addition of an asphalt multimodal trail, concrete curb ramps and a precast concrete boardwalk along 5 parcels will create a continuous path from Topgolf to Allendale Road.
Design work for Phase Three of the Linear Park continues, with completion in 2023. The final phase will connect the remaining parcels to create a 2.6-mile loop between North Gulph Road and Allendale Road. King of Prussia District, in partnership with Upper Merion Township, was awarded a $200,000 MONTCO 2040 Vision Implementation Grant for the construction.
King of Prussia District creates and maintains vibrant landscapes that improve the appearance of our most heavily traveled commercial corridors. Since 2011, King of Prussia District planted and maintains 29 roadway medians and shoulders covering nearly 3 acres of public space, not including the First Avenue Linear Park. The plantings reduce stormwater runoff, improve permeability and enhance the aesthetic of the roadways.
Informed by the Renaissance Park Stakeholder Engagement Study, King of Prussia District hired D2 Group to create a plan for new signage in Renaissance Park. The results produced both gateway and wayfinding signs, which incorporate a new brand for Renaissance Park. The first set of signs are under construction with 3 gateway signs to be installed at the beginning of the year and directional signs to follow in the summer of 2023.
Stuart & Associations Landscape Architecture & Planning created construction drawings for the new Renaissance Park pedestrian gateway to connect Renaissance Boulevard and Crooked Lane leading to the Hughes Park SEPTA station. Construction is underway for this multimodal asphalt path, that will include planting beds, trees, benches, trash receptacles and pedestrian lighting.
King of Prussia District and Simone Collins presented initial designs for the Moore Road Multimodal Trail to Upper Merion Board of Supervisors, impacted property owners and area stakeholders to gather feedback. The proposed pedestrian and bike trail will stretch from First Avenue to the Schuylkill River Trail West (SRTW) and will include seating areas, pedestrian lighting and landscaping. The final report, outlining a proposed route, trail options, amenities and next steps will be published in early 2023.
King of Prussia Rail
Exciting progress continues with SEPTA's King of Prussia Rail project! SEPTA earmarked $390M in the FY2023 capital budget for the project, which has been granted entry into the Project Development Phase under the FTA's Capital Investment Grant program.
Over the summer, SEPTA held 3 open houses to present information about the Transit Oriented Communities study and get input on station area priorities. The final report is expected at the beginning of the 2023.
SEPTA Board of Directors voted on authorization to acquire right-of-way for the extension. SEPTA is reviewing proposals submitted by architecture and engineering firms for the rail extension's final design.
King of Prussia District continues to manage advertising and advocacy on behalf of The King of Prussia Rail Coalition. The Coalition introduced a new tagline for advertising in 2022 that reflects the momentum and excitement for the project: "Together We Ride." Page views to the coalition's site are up more than 800% from this time next year.