January 29, 2020
10 Years of Driving Economic Growth in King of Prussia
By Eric Goldstein, Executive Director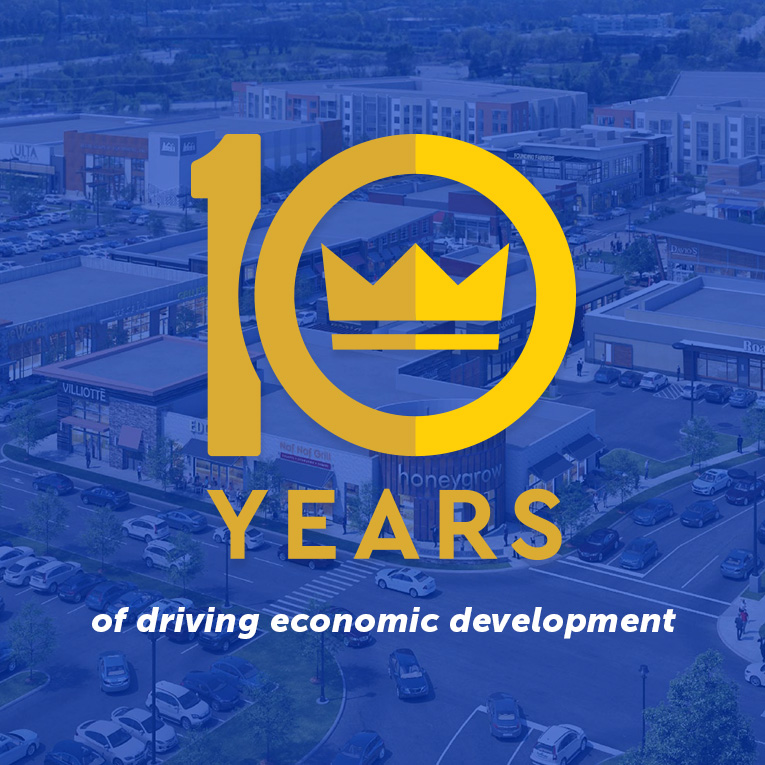 For the past ten years, King of Prussia District has worked alongside stakeholders and partners to drive economic development and job growth in King of Prussia (KOP). We worked diligently to rebuild KOP's reputation as one of Pennsylvania's premier live-work-play communities.
Here are the most significant ways I believe we contributed to the recent growth of the Township during this past decade:
Marketing & Communications: Once THE premier location for suburban office space in the 1970's and 1980's, KOP lost its luster in the subsequent two decades. By 2010, KOP was struggling to compete other commercial centers like Conshohocken, Tredyffrin, Plymouth Meeting, Radnor and Malvern. Commercial office vacancy in KOP was well over 20%. Low rents kept reinvestment at bay. Our organization helped to reposition the community in the eyes of the region. We launched an aggressive marketing and communications effort to remind people about the amazing assets KOP has for business, residential living and entertainment/hospitality. We were instrumental in raising the profile and, subsequently, making KOP top-of-mind again.
Vision & Strategy: King of Prussia District led a number of strategic initiatives to trigger economic growth, including our work with the Township to revise outdated zoning districts and encourage redevelopment flexibility. We also spent the past ten years helping to reduce and manage congestion through our employee-oriented commuter shuttles, advocacy efforts around the KOP Rail project and work on boosting the number of residential units in KOP to convert commuters to residents. Finally, we executed a vision of a safer vehicular and pedestrian environment through construction of the First Avenue Road Diet (bike lanes, safe center turn lanes, reduced speeds), the First Avenue Linear Park (a 2.6 mile multi-modal trail when complete) and installation of signalized crosswalks for safer pedestrian movements in the high employment area of Moore Park.
Networking: Since 2010, through our business networking and events efforts, King of Prussia District has fostered a more collaborative climate in KOP by bringing restaurateurs, hoteliers, commercial office, industrial and multi-family residential property owners, elected officials and residents together to work toward a common vision of a more vibrant, attractive and prosperous KOP.
We certainly believe our efforts have been incredibly successful and we are enormously proud of our contributions to the resurgence of KOP. KOP is in the midst of a decade that brought more than $3B in economic development to the community and…we are just getting started. I'm looking forward to the next ten years of growth and prosperity!